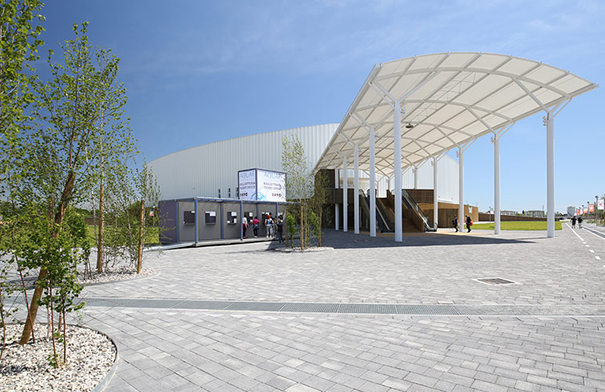 Documentation and drawings download
EN: Expo Venice S.p.a, is the Venetian Exhibition Company, founded in 2006 and its aim is to promote the historical vocation of Venice as a location of commercial and cultural exchanges.The principals Expo Venice's venue is the Pala ExpoVenice, situated near the Ponte della Libertà, which connects the Venice historical center to the mainland. Pala ExpoVenice is the new multifunctional space of Venice, the perfect location for exhibitions, fairs, congresses, concert and sporting events.
Designed by Archistar Michele De Lucchi and realized by Condotte Immobiliare, at the exhibition in Venice dedicated to the water side of Expo Milano 2015, the structure follows the shape of the ancient Venetian golden coin "Redonda", one of the symbols of the Republic of Venice. The Pavilion has10.000sqm indoor exhibition space and 30.000sqm outdoor exhibition space. The average height is 13,77m and the ground floor is a big indoor car parking. Covering material of the external walls of the pavilion are aluminum, wood and cement. Pala ExpoVenice is one of the protagonist of the important project of requalification of the Venetian waterfront.
IT: Expo Venice S.p.a è la società fieristica di Venezia istituita nel 2006 e ha come obiettivo promuovere la vocazione storica di Venezia quale luogo di scambio culturale e commerciale. Ha come sede principale il Pala Expo Venice, situato a ridosso del Ponte della Libertà che collega il centro storico di Venezia alla terraferma. Il Pala Expo Venice è il nuovo spazio polifunzionale di Venezia, sede deputata ad ospitare fiere, mostre, congressi, eventi musicali e sportivi. Progettato dall'archistar Michele De Lucchi e realizzato da Condotte Immobiliare, in occasione dell'esposizione veneziana dedicata all'acqua collaterale di Expo Milano 2015, la struttura riprende nella forma architettonica l'antica moneta aurea veneziana Redonda della Serenissima. Il Pala ExpoVenice si articola su 10.000 m² di area espositiva coperta e più 30.000 m² di aree scoperte. L'altezza interna media è di 13,77 metri e il piano terra è un grande parcheggio coperto. Essa è realizzato con materiali e tecnologie d'avanguardia quali alluminio, legno e cemento. Il Pala ExpoVenice rappresenta un fondamentale protagonista nel progetto di riqualificazione del waterfront veneziano.
Sitografia