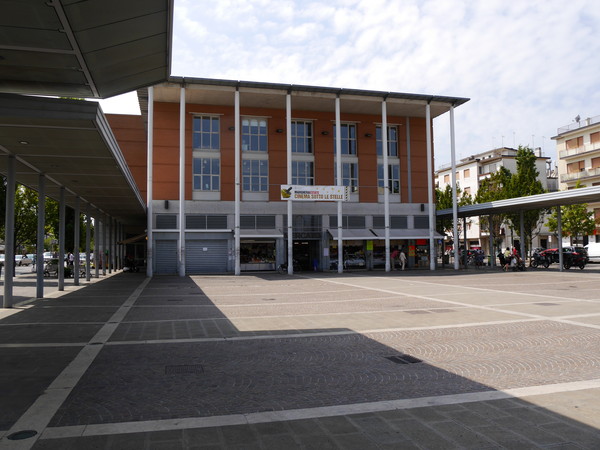 EN Piazza Mercato is the main square of Marghera and, as already cleared by the name, hosts the city market on tuesdays and saturdays mornings. Main intersection for public transport, hosts at its borders other public activities: the library and the game room, the city hall, Sant'Antonio church, the outdoor cinema during the summer months.
The layout of the square was redeveloped from 1998, with the realization, amongst other things, of a public and equipped pedestrian connection between Mercato and Concordia square. The redevelopement here looks like a lenghtened garden, a sequence of green and equipped-green areas. The path is the end of the open-spaces of the original project of Marghera Garden City, that aimed to organize the core of Marghera following the sequence Sant'Antonio church, park, market and Concordia square.
IT Piazza Mercato è la piazza principale di Marghera e, come evidente già dal nome, ospita il mercato della città, il martedì e il sabato mattina. Snodo centrale dei trasporti pubblici, ospita attorno a sè altre funzioni di interesse pubblico: la Biblioteca e la Ludoteca, il Municipio, la chiesa di Sant'Antonio, il cinema all'aperto nei mesi estivi.
L'assetto della piazza è stato oggetto di una riqualificazione avviata nel 1998 che ha riguardato, tra l'altro, la realizzazione di un collegamento pedonale pubblico e attrezzato da piazza Mercato a piazzale Concordia. Il nuovo spazio si configura come un giardino di forma allungata, una sequenza di zone a verde alternate a zone di sosta. Il percorso è in realtà la conclusione degli spazi aperti dell'originale disegno della Città Giardino, che organizzava la parte centrale di Marghera secondo la sequenza Chiesa di Sant'Antonio, parco, mercato e piazzale Concordia.
Bibliografia
BARIZZA SERGIO, Marghera: il quartiere urbano, Alcione, Trieste, 2000.