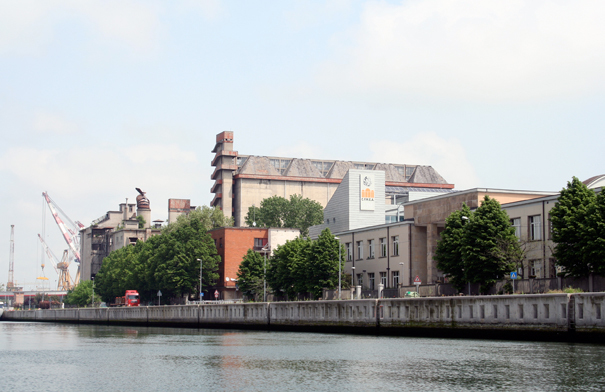 Documentation and drawings download
EN: In the docks area overlooking the mills, on the West channel, the Anonima Malteria Adriatica company requested an area of about 12,000 m2 in 1937, in order to build a plant for the processing of barley. This factory was built in 1946 and expanded with the addition of a department dedicated to the production of flour malt extracts. The plant was purchased in 1984 by Saplo and subsequently retired. The building now lies abandoned but the originality of some constructive solutions such as the copper chimney and the exterior stairs warped around the main silos attracts the eye of professional and amateur photographers.
IT: Nella banchina prospiciente quella dei Molini, sul canale Ovest, la società Anonima Malteria Adriatica fece richiesta, nel 1937, di un'area di circa 12.000 m2 per costruirvi una stabilimento destinato alla lavorazione dell'orzo. Tale stabilimento fu costruito e ampliato nel 1946 con l'aggiunta di un reparto dedicato alla produzione di farina di estratti di malto. L'impianto viene acquistato nel 1984 dalla Saplo e successivamente dismesso. Lo stabile giace ora in abbandono ma l'originalità di alcune soluzioni costruttive come il camino in rame e le scale esterne che avvolgono il silos principale attirano lo sguardo attento di fotografi professionisti ed amatoriali.