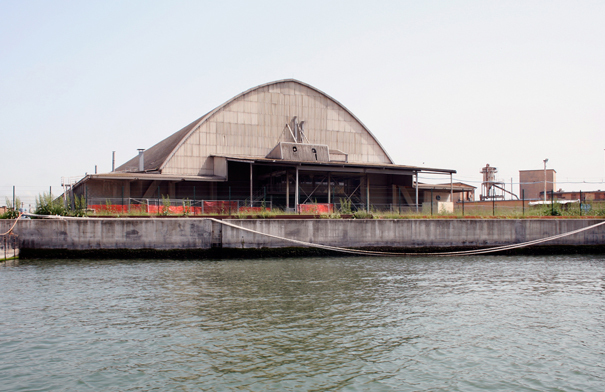 Documentation and drawings download
EN: The ultimate limit of the first industrial zone is occupied by a small building originally erected by Stereol, the first Italian company for the hydrogenation of oils, in 1928. The factory's position right on the tip that divides the North canal from the Brentella canal makes it particularly interesting. The building, characterized by the removal of the roof that makes the structure visible, even if in a small dimension has all the typical elements of the industrial area: warehouses, silos and cranes.
IT: Il limite ultimo della prima zona industriale é occupato da un piccolo manufatto originariamente eretto dalla Stereol, prima industria italiana per la idrogenizazione degli oli, nel 1928. La posizione dello stabilimento, sulla punta che divide il canale industriale nord dal canale Brentella lo rende particolarmente interessante. La costruzione, caratterizzata dalla rimozione delle coperture che rende visibile la struttura, seppur di piccole dimensioni presenta tutti gli elementi tipici dell'area industriale: magazzini, silos e gru.