Professor
MASS Design Group [US – RW] – Kelly Doran
Assistants
Alberto Cumerlato, Brad Pickard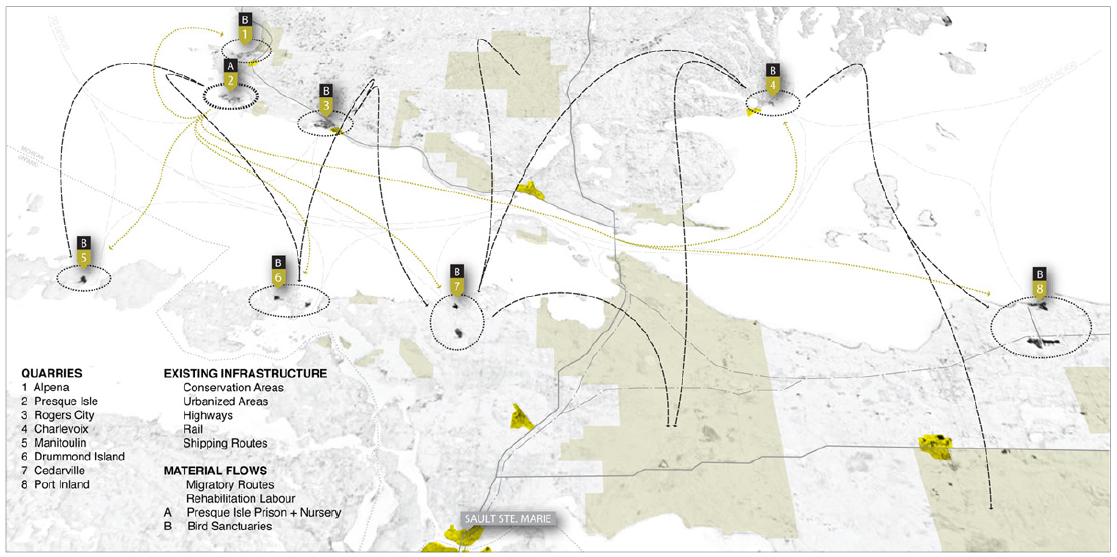 "How we build, and who builds, matters."
"Lo-Fab" [Locally Fabricated] speaks to MASS's approach to the design and building process. On every project, MASS works to highlight and scale local innovation and ideas, hire local labour, and use local materials.
The (de)construction of Port Marghera is symptomatic of global processes that continuously relocate and consolidate material flows towards labour and markets. A century of these streams has shaped and scaled the Port's landscape through a series of local deposits, constructions, and excavations. The ambition of MASS's studio is to investigate historic and contemporary relationships between Local and Global processes – but specifically shifting focus squarely on the Local. Students will define and curate new solutions to existing development by utilizing industries and processes in a manner that produces appropriate human-centered solutions at the territorial, urban, and site scale for Porto Marghera.
The Course will be structured into three distinct phases of work:
Week 1 – Immersion & Inventory
Students are to gather an inventory of the existing industries, processes, tools, skills and materials available in Porto Marghera that can be appropriated, harnessed and augmented as a means to redefine local development. What are the existing territorial flows and processes of industry, production and people in Porto Marghera?
Week 2 – Synthesize & Section
How can these flows/processes be re-routed, amped or ended so that they add significant cultural value to the physical processes that currently take place in Porto Marghera? Sectional mapping and planning will begin to point to particular locations on site that would be appropriate for built interventions over time.
Week 3 – Building Change
How can these changes manifest themselves in the physical realm by re-conceptualizing these flows and processes at the scale of a detail and collective built environment?
---
"Come si costruisce e l'importanza di costruire"
"Lo-Fab" [Localmente Fabbricato] è l'approccio adotatto da MASS durante il processo di progettazione e costruzione. In ogni progetto, MASS cerca di evidenziare e promuovere l'innovazione e le idee locali, favorendo l'uso di manodopera e materiali locali.
La (de) costruzione di Porto Marghera è un sintomo indicativo dei processi globali che continuamente delocalizzano e consolidano il commercio di materiali e il relativo spostamento del lavoro.
Un secolo di questi flussi ha plasmato e costruito il paesaggio di Porto Marghera attraverso una serie di depositi, nuove costruzioni e scavi. L'ambizione di MASS è di indagare i rapporti storici e contemporanei tra i processi locali e globali – ma specificamente spostare l'attenzione sulla scala locale. Gli studenti dovranno definire e proporre soluzioni opportune per lo sviluppo di Porto Marghera e adattarle a scala urbana e territoriale.
Il corso sarà strutturato in tre fasi distinte di lavoro:
Prima Settimana – Immersione & Inventario
Gli studenti dovranno raccogliere informazioni sul "sistema Porto Marghera", catalogarne i processi, industriali e non, e produrre un inventario di strumenti, competenze e materiali disponibili.
Aspetti fondamentali di questa prima fase saranno l'individuazione delle dinamiche esistenti, l'identificazione del traffico di materiali e degli spostamenti delle persone nel territorio nonchè l'acquisizione di quelle conoscenze indispensabili per poter promuovere e ridefinire uno sviluppo locale.
Seconda Settimana – Sintesi & Sezione
Come è possibile reindirizzare, amplificare o cessare questi flussi/processi?
L'analisi in sezione e la mappatura di queste dinamiche saranno gli strumenti indispensabili per individuare e localizzare particolari posizioni all'interno dell'area dove poter, con il tempo, intervenire.

Terza Settimana – Costruire il cambiamento
Come possono questi cambiamenti manifestarsi nel mondo fisico in modo da ri-concettualizzare i flussi e i processi alla scala del dettaglio e dell'ambiente costruito?