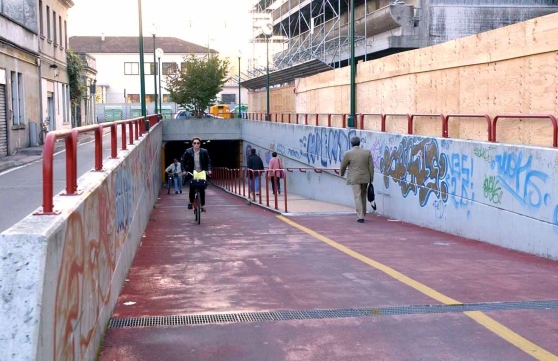 EN Marghera and Mestre are basically divided by the rails of "Venezia Mestre" station, train station they share thanks to the fact that access is possible from both sides. In order to allow pedestrian and cycle underpass beneath the railway infrastructure, the two cities are equipped with two underpasses, one exclusively pedestrian, by the central underground passageway of the train station (the same that allows access to the rails); the other on, suitable for cycling and pedestrian, that connects via Ulloa in Marghera with via Dante in Mestre.
IT Marghera e Mestre sono essenzialmente separate dai binari della Stazione "Venezia Mestre", che condividono in quanto fornita di accesso da entrambi i lati. Per consentire il passaggio pedonale e ciclabile al di sotto dell'infrastruttura ferroviaria, le due città sono state dotate di due sottopassaggi, uno esclusivamente pedonale, esattamente in corrispondenza del corridoio centrale interrato della stazione (quello che permette l'accesso ai diversi binari); l'altro, sia pedonale che ciclabile, più lungo, che connette via Ulloa di Marghera con via Dante di Mestre.
Bibliografia
MANTOVAN CLAUDIA, OSTANEL ELENA, Quartieri contesi: convivenza, conflitti e governance nelle zone stazione di Padova e Mestre, Angeli, Milano, 2015.