Professor
Esther Giani [IUAV] + Jinyoung Chun + Nam Soohyoun [KR]
Assistants
Valentina Covre, Walter De Marchi, Davide Scomparin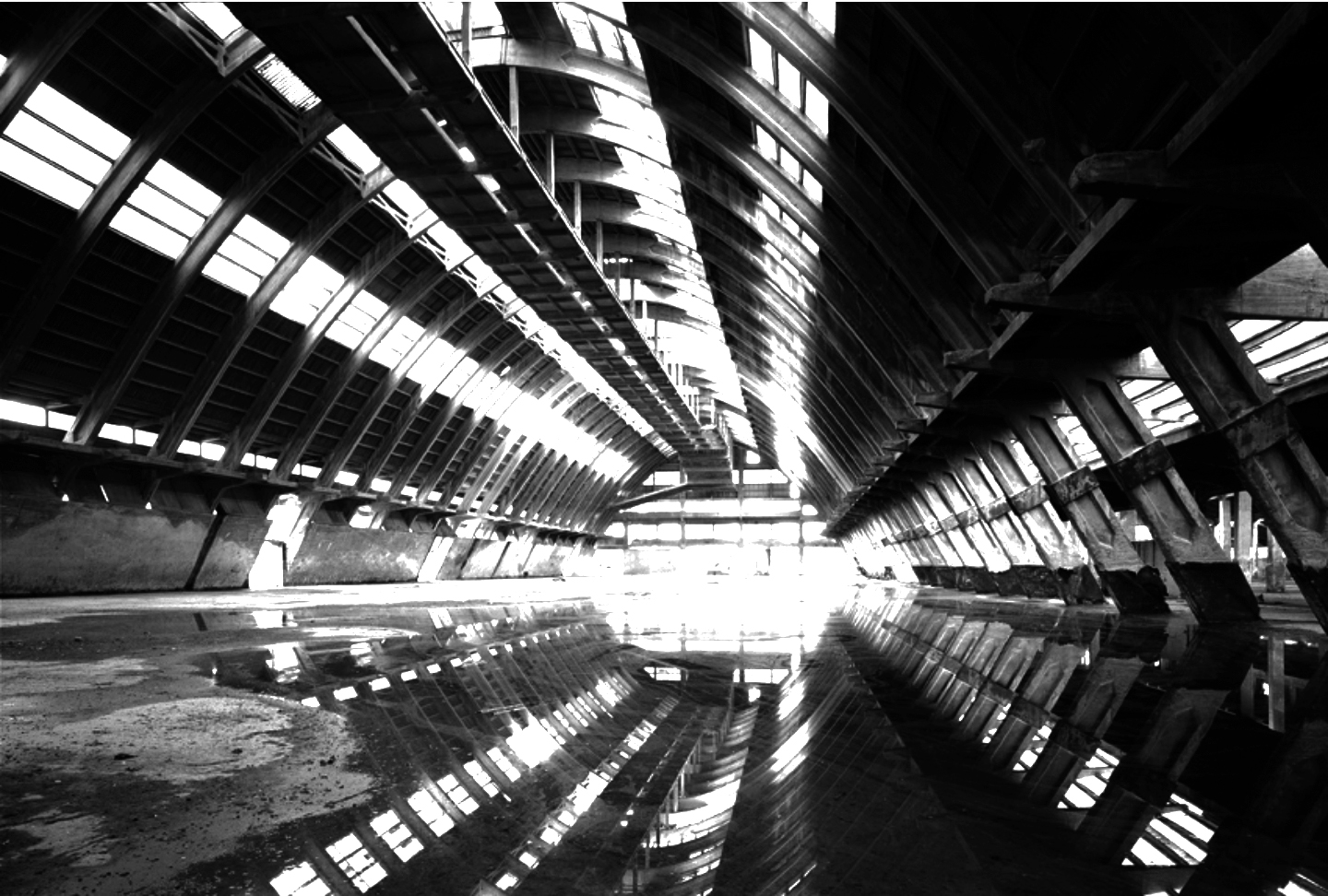 photo courtesy @fulvio orsenigo
INsideOUT #2
Processing a theme park
The workshop will be hold by a team: E. Giani (Iuav), J. Chun e S. Nam (Myonji University, Seoul).
The materials have been edited by W. De Marchi e D. Scomparin who are part of the teaching staff for the whole period.
A basic survey and site plan will be provided; students will be awared on functions (a the park) and on the proposed approaching strategy (pre-text processing).
Who
Iuav students mixed with Miongji students. 5 to 7 groups will be set up with 2 guests students in each group. Groups will be formed the very first day.
Where
The study area is in Porto Marghera, 1st zone: 45.46777, 12.25394 (GPS ref.). Dismissed buildings will be engaged: horizontal and vertical silos. The horizontals' have left only the skeleton the vertical ones are by a continuous facades, some on tripod. Silos are in reinforced concrete.
Will go to the area on Tuesday 28: appointment directly on site, at 9.30 am at the entrance
What
Scenarios for leisure (free time) by strongly characterising the site (volumes, in & out door, area) by mean of a Theme Park. The theme of the park is freely chosen (examples will be given the first day).
HOW
The analysis of a context required for intervention, is already a project.
The mode by which we look to a land/urban-scape is a form of imagination. It is a reality's filter.
Ordering this complex and syncretic perception by means of logical sequences is part of the project effort; it is an approach to pre-figuration ordering data by a sort of a protocol, a gradual procedure of transformation.
Even involuntarily this phenomenological approach it occurs by mean of suggestions, of ' impression' (literally: what keeps impressed)
Students, well equipped with cameras, will individually look and seek for pre-text during the area visit.
When
A workshop is not a miniature studio: time is compressed and limited therefore you have to make choices right at the start, to narrow the task. You will learn to giving up. We mean the workshop as the place and time for experimental design.
Students, teachers, assistants will work in classroom every day, the whole day long.
Workshop starts on Monday at 2 pm.
Friday's morning will be dedicated to presentations and the afternoons we'll have spritz&chips discussions with guests.
Why
The apparently banal experience we are proposing, carries contents still enigmatic: we are wondering if the perception of a formal hunch, and testing a sample "found" in the study-area which will be afterword isolated, de-constructed and developed as form organiser system, is really a random, fortuitous and innocent act.
Some workshop and thesis design studio (Iuav, 2000) already experimented this approach. About references on the education to analysis of form many are the theoretical cornerstones. We rather recall the persistent re-drawing of some formal pre-text by Le Corbusier, or the more sibylline exercises driven by Alvar Aalto, or the restless sketching by Siza. And on this drift we could reach Goethe's visions and more.
---
Il workshop sarà coordinato da un pool di docenti: E. Giani del DACC con J. Chun e S. Nam (Myonji University, Seoul). I materiali di base sono curati da W. De Marchi e D. Scomparin che collaboreranno con la docenza per le tre settimane.
Agli studenti sarà fornito un rilievo di base e una cartografia, riceveranno alcune ipotesi funzionali (parco a tema) e istruzioni per la sperimentazione progettuale che si propone (il pretesto).
Chi
Studenti iuav e studenti coreani. si formeranno 5/7 gruppi con almeno due studenti coreani per gruppo. I gruppi saranno fatti il primo giorno.
Dove
L'area sulla quale si svolgerà l'esercizio progettuale è nella I zona industriale in via delle Industrie (coordinate gps: (45.46777, 12.25394); i manufatti dismessi con cui lavoreremo sono i silos orizzontali di cui rimane solo lo scheletro in Cls armato e un gruppo di silos cilindrici, anche loro in cls armato di cui 5 poggiano su cavalletti e uno, il più largo, è ben saldo sul terreno.
Andremo in sopralluogo martedì 28.6: appuntamento alle ore 9.30 davanti l'accesso all'area.
Cosa
Scenari per il tempo libero, caratterizzando fortemente l'area che avrà la funzione di Parco a Tema.
Il tema sarà liberamente scelto dai gruppi (esempi e suggestioni saranno forniti il primo giorno).
COME
L'analisi di un luogo nel quale si deve intervenire con un progetto, è già progetto.
Il modo con il quale si guarda un paesaggio, uno spazio urbano, è una forma di immaginazione, un filtro della realtà. Ordinare questa percezione complessa e sincretica secondo sequenze logiche e – addirittura – secondo una specie di protocollo, di procedura graduale nella acquisizione di informazioni e dati, è sempre parte dello sforzo di pre-figurazione progettuale.
Questi approcci al progetto, anche quando non sono pienamente coscienti, avvengono comunque, sotto forma di suggestioni, di "impressioni" (alla lettera: ciò che resta impresso).
Muniti di macchine fotografiche gli studenti cercheranno in sito i pretesti da cui partire, il giorno del sopralluogo. Martedì. Subito.
Quando
Un workshop non è un laboratorio in miniatura: il tempo è compresso e limitato e bisogna fare da subito delle scelte, circoscrivere il campo d'azione, imparare a rinunciare. Intendiamo il workshop quale luogo e momento di sperimentazione progettuale.
Studenti, docenti e collaboratori saranno in aula tutti i giorni, tutto il giorno.
Lunedì pomeriggio alle ore 14 si inizia.
I venerdì mattina saranno dedicati alle presentazioni e i pomeriggi a discussioni spritz&chips con ospiti.
Perché
La apparente banalità dell'esperienza che andiamo sviluppando, reca in sé alcuni contenuti ancora enigmatici: ci si chiede se la percezione di uno spunto formale, il prelievo sull'area-studio di un "campione" poi isolato, de-costruito e sviluppato come sistema organizzatore di forme, sia un gesto così casuale e innocente.
Alcuni workshop e laboratori di sintesi finale (anni 2000 presso lo Iuav) hanno già sperimentato questo approccio. E a proposito di autorevoli antecedenti di questa educazione alla analisi della forma potremmo citare alcuni caposaldi teorici, ma ci piace invece ricordare l'ostinato ridisegno di alcuni pretesti formali in Le Corbusier o i più sibillini esercizi di Alvar Aalto, o ancora l'inquieta grafia della penna Bic di Siza e, su questa deriva, si potrebbe riandare alle visioni Goethiane eccetera eccetera.
Info: giani@iuav.it
Materials: from June 21
http://www.iuav.it/Ateneo1/docenti/architettu/docenti-st/Esther-Gia/materiali-/WAVE-2016-/index.htm