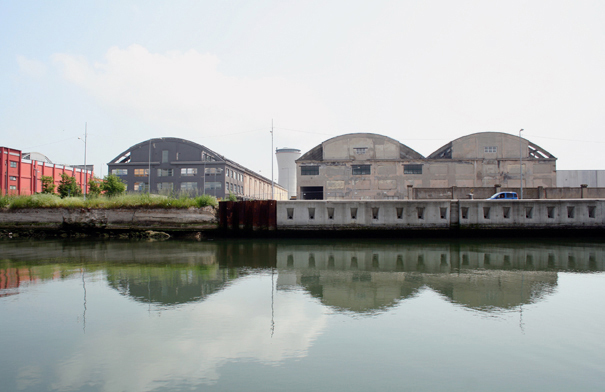 Documentation and drawings download
EN: The big triangle between the Azoto street, quay and branch remained unused for a long time and only in 1937-1938 here was built in record times, the enormous factory of Vetrocoke Azotati. The Azotati area even if with substantial structural modifications kept the same function until the '90s. In 1999 in this area was inaugurated the Darsena consortium, managing the logistics of container traffic. This area represents the first example of a conversion of industrial spaces to offices and "new specialized tertiary functions." Of particular interest is the recovery of the old cooling tower of the former Vetrocoke Azotati over 50 meters high, which should accommodate a museum of industrial archeology in the basement, offices at the ground floor, a conference room on the second floor and on the top a panoramic restaurant.
IT: Il grande triangolo compreso tra via, banchina e ramo dell'Azoto rimase per lungo tempo inutilizzato e solo nel 1937-1938 venne realizzata a tempo di record l'imponente fabbrica della Vetrocoke Azotati. L'area azotati pur con sostanziali modifiche strutturali mantenne la stessa funzione fino agli anni '90. Nel 1999 in quest'area viene inaugurato il consorzio multimediale Darsena, a servizio del traffico di container. Quest'area rappresenta quindi il primo esempio di una riconversione degli spazi industriali ad uffici e a "nuove funzioni terziarie specializzate". Particolarmente interessante é il recupero della vecchia torre di raffreddamento dell'ex Vetrocoke Azotati, alta oltre 50 metri che dovrebbe ospitare nel piano sotterraneo una sala museale di archeologia industriale, a piano terra gli uffici, al secondo piano una sala congressi e in cima un ristorante panoramico.