Professor
Burkhalter Sumi Architekten [CH]
Assistants
Sebastiano Giannesini, Federico Zuanier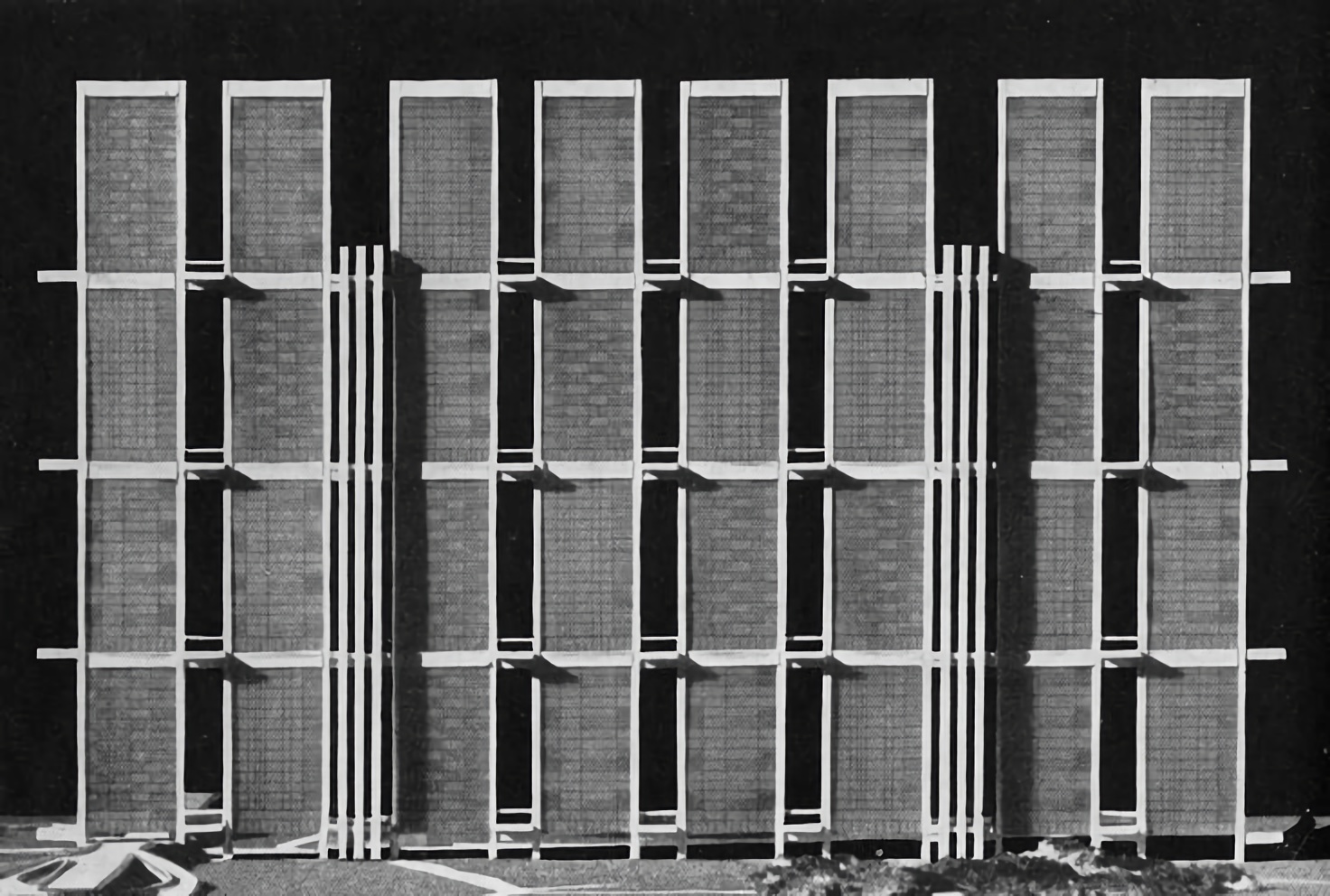 On the Borders: Extreme Density

Concepts of Modernism
For some time we have been investigating the issue of "concepts of modernism" at the Accademia di Architettura in Mendrisio (AAM). We wish to continue this research in Venice, with a focus on the town of Marghera. The methodology will be clear: starting from a "reference" project, we will research new possibilities and complexities, not only typologically but also structurally.
For W.A.Ve 2016 we will concentrate on the unbuilt competition design for Brasilia by Rino Levi of 1957. We will rebuild the sleek living towers, then capturing them digitally and disassembling them. We will question their operability and critically analyse the possible contribution they could have had to Marghera. We want to pose the question of a possible (extreme) density and its social significance.
Mega-Structure
Rino Levi was born in 1901 in San Paolo, descended from an Italian family. He graduated in 1926 from the Faculty of Architecture in Rome. In his proposal for the Brasilia project the housing towers were designed for 16,000 inhabitants, which corresponds to the present-day population of Venice. This 300m high mega structure was vertically articulated by three public decks opened up by two vertical platforms. In this structure "embedded" as infills are 4 x8 (32) units, twenty story high housing units, in turn internally supplied with two lifts and staircase cores. The footprint is 18mx 36m (648m2) of the column grid 6m x 6m.
Task Description
We will adapt the vertical structure of Mega Levi to different parts of Marghera, creating an artificial topography. Each group of students will then develop the units as infill (analogous to those of Levi). This units will be then incorporated in-to the "folded-over structure", creating an ensemble with different public programs.
This will generate a new piece of a city, vertical and horizontal at the same time, comparable to Corbusier's hospital project for Venice.
Visual presentation
-Rhino 3D Animation (Video) as line drawings
-Big scale wooden model of Levi's project, scale 1: 100, about 400cm x20cmx300cm(h)
-Final models with same dimensions for the student proposals, one for each group of students
---
On the Borders: Extreme Density

Concetti di Modernismo
Per diverso tempo abbiamo analizzato la questione dei "concetti di modernismo" all'Accademia di Architettura di Mendrisio AAM. Desideriamo continuare questa ricerca a Venezia, focalizzandoci sulla città di Marghera. La metodo-logia sarà chiara: partendo da un progetto "di riferimento", ricercheremo nuove possibilità e complessità, non solo tipo-logicamente ma anche strutturalmente.
Per Wave 2016 ci concentreremo sul progetto di concorso per Brasilia non realizzato di Rino Levi del 1957. Ricostrui-remo le eleganti torri residenziali, dopodichè le acquisiremo digitalmente e quindi le disassembleremo. Ci interrogheremo sulla loro operabilità e analizzeremo criticamente il possibile contributo che avrebbero potuto dare a Marghera. Vogliamo porre la questione di una possibile (estrema) densità e del suo significato sociale.
Mega-Struttura
Rino Levi naque da una famiglia italiana nel 1901 a San Paolo. Si laureò nel 1926 alla Facoltà di Architettura di Ro-ma. Nella sua proposta per il progetto di Brasilia, le torri re-sideniali erano state progettate per 16000 abitanti, equiva-lenti all'attuale popolazione di Venezia. Questa mega struttura alta 300 m era articolata verticalmente tramite tre ponti pubblici, aperti su due piattaforme verticali. Nella struttura, "inseriti" come riempimenti ci sono 4×8 (32) unità, unità residenziali di venti piani, alternativamente serviti in-ternamente da due ascensori e vani scala. L'impatto a terra è 18 m x 36 m (648 m2) con griglia 6 m x 6 m.
Descrizione delle attività
Adatteremo la struttura verticale di Levi a differenti parti di Marghera, creando una topografia artificiale. Ogni gruppo di studenti svilupperà quindi le unità come riempimenti (analo-gamente a quelli di Levi). Queste unità verranno quindi in-corporate nella struttura, creando un insieme di diversi pro-grammi pubblici.
Ciò genererà un nuovo pezzo di città, verticale e orizzontale allo stesso tempo, comparabile con il progetto di Le Corbu-sier per l'Ospedale di Venezia.
Presentazione
– Animazioni Rhino 3D (Video) come disegni
– Modello a larga scala in legno del progetto di Levi, scala 1:100, circa 400 cm x 20 cm x 300 cm (h)
– Modelli finali delle dimensioni proposte dagli studenti di ogni gruppo.