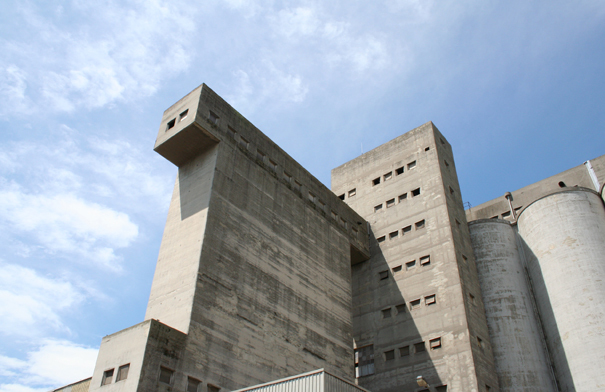 Documentation and drawings download
EN The initial part of the quay along the west canal has a large functional fragmentation and today areas still operating are paced side by side with high concrete walls, the physical image of abandonment. The group Grandi Molini Italiani acquired the first plant in 1978 and then slowly absorbed all the industries occupying the entire first part of the canal: here Turkish and Ukrainian ships dock and unload in the huge silos grains and flour. The original silos, dating back to 1926, is still in operation and was joined over the years by other impressive buildings that rival for dimensions with the industrial chimneys. In 2005 GMI opened in Marghera an experimental plant for the production of bioethanol.
IT La parte iniziale della banchina lungo il canale industriale ovest presenta una grande frammentazione funzionale ed oggi aree ancora operose si affiancano ad alti muri in cemento, immagine fisica dell'abbandono. Il gruppo Grandi Molini Italiani ha acquisito il primo impianto nel 1978 e poi lentamente assorbito tutte le industrie precedenti fino ad occupare l'intera parte iniziale del canale: qui navi ucraine e turche attraccano alla banchina e scaricano negli enormi silos di granaglie e farine. Il silos originario del 1926 é ancora in funzione ed é stato negli anni affiancato da altre imponenti costruzioni che rivaleggiano per imponenza con le ciminiere industriali. Nel 2005 il gruppo GMI ha fondato proprio a Marghera un impianto sperimentale per la produzione di bioetanolo.