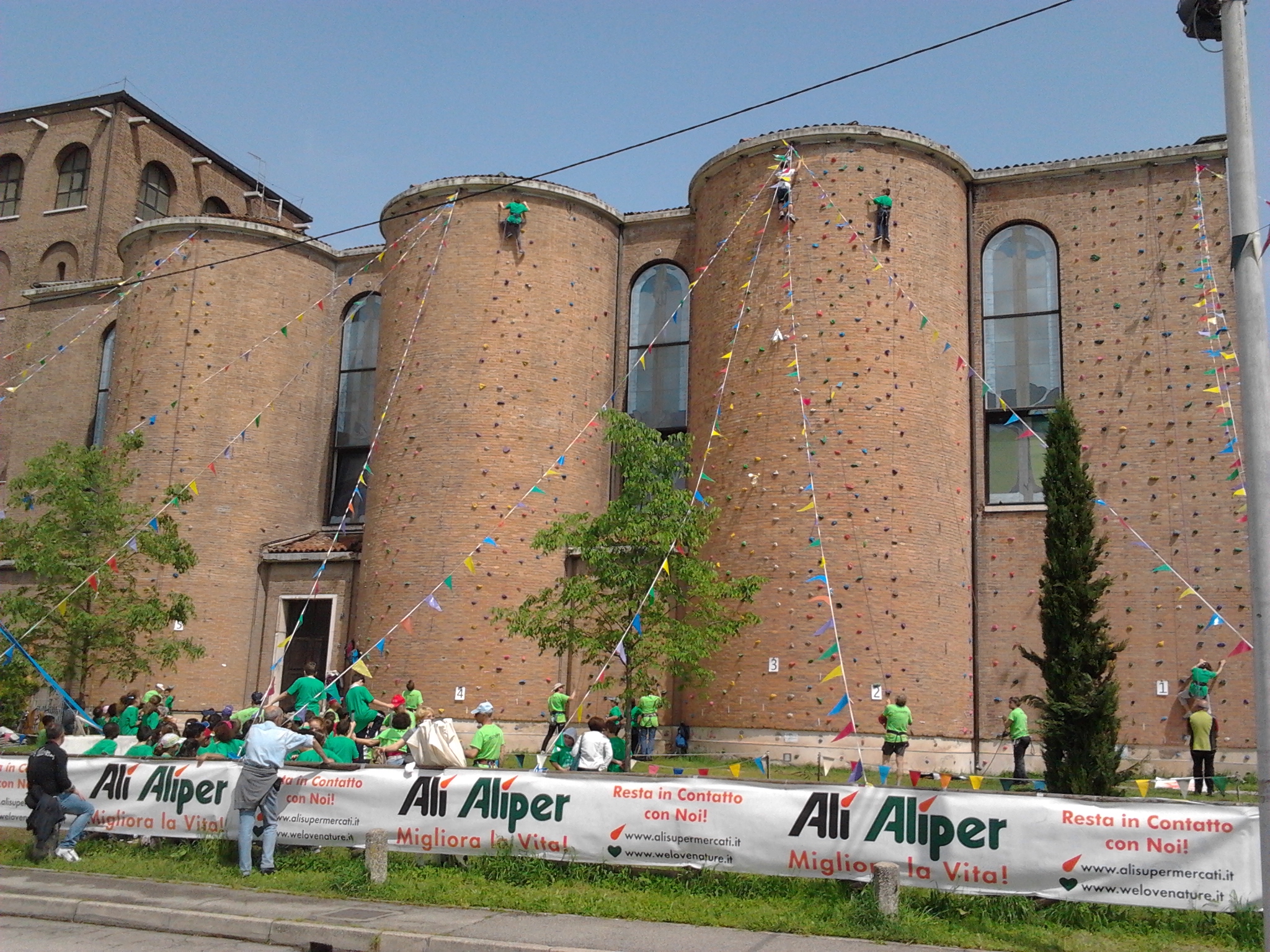 EN The project for the construction of the church consacrated to "Gesù Divino Operaio di Nazareth" of Marghera dates back to 1935, the realization was though postponed to postwar because of economical reasons. The church was then inaugurated in 1954 in the presence of civil authorities and Patriarca Angelo Giuseppe Roncalli.
The project was realized thanks to Don Armando Berna, who managed the parish from the early 30's to 1974 and strongly wanted to build a place of worship and congregation conceived for Porto Marghera workers.
Currently managed by Salesians, the church represents congregation point also for climbing lovers: the south wall of the church has been equipped with climbing routes in 2002.
IT Il progetto per la costruzione della chiesa consacrata a "Gesù Divino Operaio di Nazareth" a Marghera risale al 1935, la realizzazione sarà però posticipata al dopoguerra per ragioni di tipo economico. La chiesa verrà inaugurata nel 1954 alla presenza delle autorità civili e del Patriarca Angelo Giuseppe Roncalli.
La realizzazione della cheisa è dovuta principalmente all'opera di Don Armando Berna che, alla guida della Parrocchia dall'inizio degli anni Trenta al 1974, ha fortemente voluto un luogo di preghiera e di aggregazione concepito per i lavoratori di Porto Marghera.
Attualmente gestita dai Salesiani, la chiesa rappresenta punto di aggregazione anche per gli appassionati di arrampicata sportiva in quanto la parete sud della chiesa è stata attrezzata nel 2002 con più vie di arrampicata di diverso grado di difficoltà.
Sitografia
http://www.centrodocumentazionemarghera.it/easyne2/LYT.aspx?IDLYT=532&CODE=CPM&ST=SQL&SQL=ID_Documento=38
http://www.caipadova.it/articoli/singola-news/list/2012/12/16/arrampilandia-lesempio-di-marghera-1.html