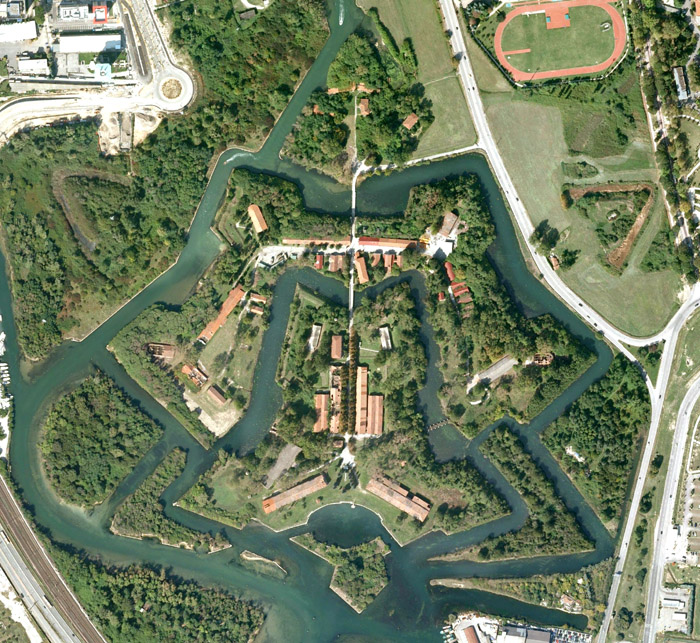 Documentation and drawings download
EN From the foundation of Venice in 1805, Marghera was a prosperous ham nearby the lagoon. It was an important goods and passengers exchanging core, between the historic section of Venice and the mainland.
In a second period, round about the end of the 19th century, the primal ham was transformed in a military fortress, in order to control the access to the city from the ground.
The use of a fort became useless with the spread of aviation, Forte Marghera thus became a storage and logistics facility for military supplies, till 1996. After the demise of the entire entrenched Camp of Mestre, Forte Marghera began to return to public use an area that, over time, has acquired the status of property protected for its historical, architectural and environmental significance.
IT Dalla fondazione di Venezia al 1805, Marghera era un florido borgo nei pressi della laguna. Si trattava di un importante centro di scambio di merci e persone, tra il centro storico veneziano e la terraferma.
In una seconda fase, verso la fine dell'Ottocento, l'originario borgo venne trasformato in una fortezza ad uso militare, al fine di controllare l'accesso da terra alla città.
L'utilità del forte venne meno con la diffusione dell'aviazione e venne quindi trasformato in deposito e base per la logistica dei rifornimenti dell'esercito, fino al 1996. Dopo la dismissione di tutto il Campo trincerato di Mestre, Forte Marghera è diventato un bene pubblico e tutelato per il suo valore storico, architettonico e paesaggistico.
Bibliografia
ARVALI LUIGI, Il Forte di Marghera: Tra Mestre e Forte Marghera: vicende storico militari sotto la dominazione austriaca, Cassa di risparmio di Venezia, Venezia, 2007.
FOFFANO REDI, LUGATO DARIO, Da Margera a Forte Marghera : storia delle trasformazioni dell'antico borgo di Marghera da ambiente naturale ad area fortificata, Multigraf, Spinea, 1988.
VIO GIOVANNI, Stella d'acqua : politiche e riflessioni per il recupero di Forte Marghera a Venezia, CLEUP, Padova, 2009.