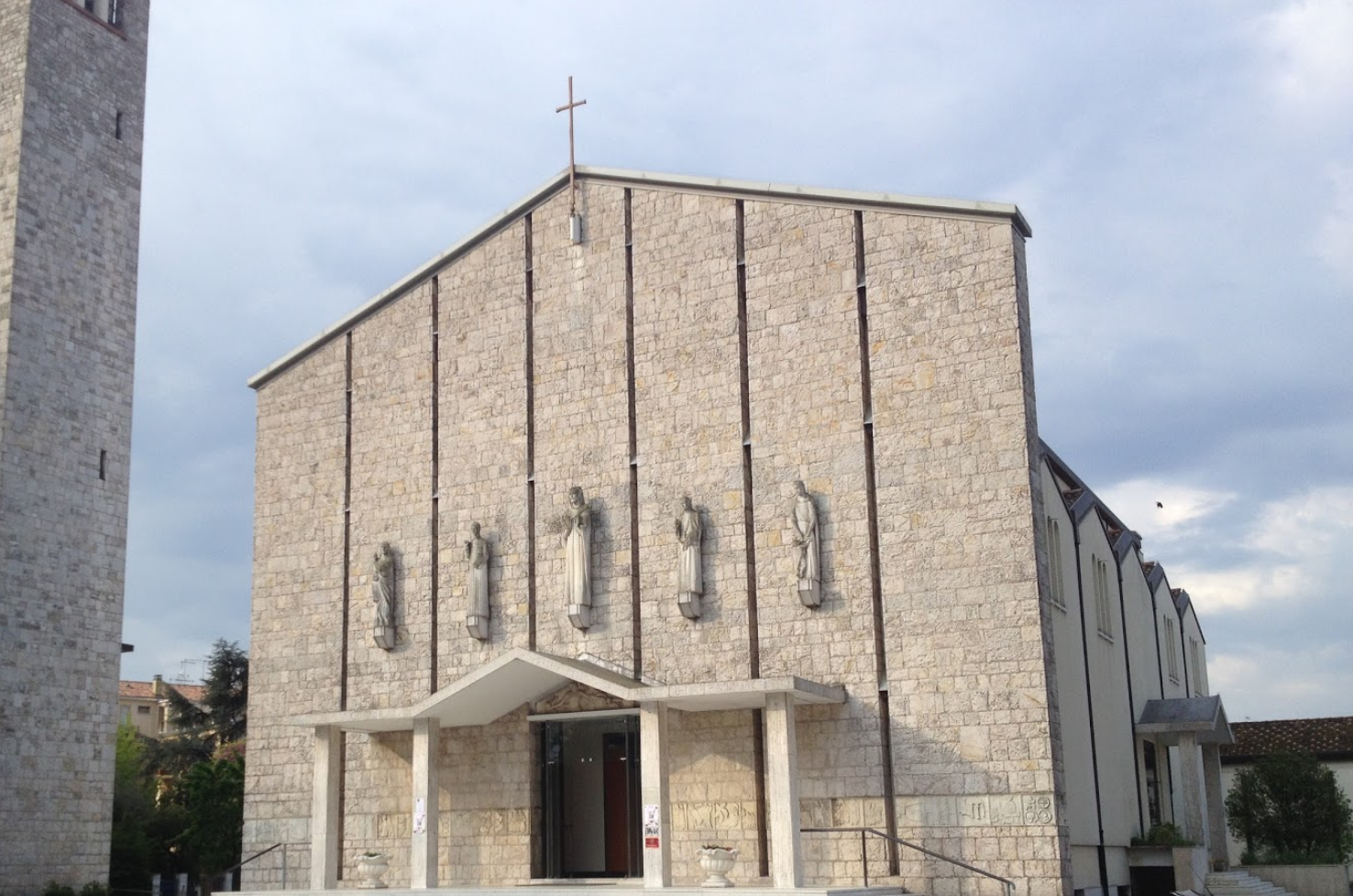 EN "Villaggio San Marco" is a residential district in Mestre, that lays in the south-eastern center of the city, between Salso and Osellino channels, along Viale San Marco, the main road that connects to Venice.
This is a significant example within the residential resettlement built in Italy during the post-World War II. The project has been conceived by Luigi Piccinato and Giuseppe Samonà, considering, on the base of statistics and opinion polls, the needs of Marghera's factory workers.
The wish was to build a district, where families of different origin and social background could integrate among themselves. This purpose has been pursued luring away traffic from residential areas, allowing it only on borders (in via Vespucci and via Forte Marghera), building eight residential cores and integrating public buildings (schools, a church, a cinema, a sport center, etc…), connected through wide equipped green areas. Some parts of the project were not built following the original plan: the 8th residential core, the high buildings on via Forte Marghera, the Civic and the Sport Center. The quality of space and accessibility is revealing even considering Venice: the area is enclosed by channels that represent a strong link between population and the venetian lagoon, further strenghthened by the recent implementation of San Giuliano Park that today represents the natural prosecution of district's residential and green system.
IT Il "Villaggio San Marco" è un quartiere residenziale di Mestre, collocato a sud-est del centro città, nella zona tra i canali Salso e Osellino, lungo Viale San Marco, arteria stradale di connessione con Venezia.
Si tratta di un esempio significativo nell'ambito dei nuovi insediamenti realizzati in Italia del secondo dopoguerra. Il progetto fu elaborato da Luigi Piccinato e Giuseppe Samonà basandosi, attraverso statistiche e sondaggi, sulle esigenze degli operai di Marghera.
La volontà era quella di realizzare un quartiere in cui famiglie di origine ed estrazione differente potessero integrarsi tra loro, finalità perseguita tramite l'allontanamento del traffico veicolare dalle aree residenziali, permesso solo ai margini (via Vespucci e via Forte Marghera), la realizzazione di otto nuclei abitativi e l'inserimento di alcune strutture collettive (scuole, chiesa, cinema, centro sportivo, ecc.) in relazione tra loro grazie ad ampi spazi verdi attrezzati. Alcune parti del progetto non vennero effettivamente realizzate come da progetto: l'VIII nucleo abitativo, le case alte lungo via Forte Marghera, il Centro Civico e il Centro Sportivo. La qualità dello spazio e dell'accessibilità è significativa anche in rapporto a Venezia: i canali che delimitano l'area continuano a sostenere un forte legame tra la popolazione e la laguna di Venezia, ulteriormente consolidato dalla recente realizzazione del Parco San Giuliano che oggi costituisce un naturale prolungamento del sistema abitativo e verde del quartiere.
Bibliografia
SCIMEMI MADDALENA, TONNICELLO ANNA, Egle Renata Trincanato 1910-1998, Marsilio, Venezia, 2008.
ASTENGO GIOVANNI, Nuovi quartieri in Italia, in «Urbanistica», 1951, 7.
SAMONÀ GIUSEPPE, Nuova unità residenziale a Marghera-Mestre, in «Urbanistica», 1951, 7.
SAMONÀ GIUSEPPE, Problemi urbanistici sul Quartiere di S. Giuliano, in «Casabella», 1958, 218.
Sitografia
Venezia-Mestre, Quartiere Ina-casa San Giuliano, Luigi Piccinato e Giuseppe Samonà, 1950-1962. Disponibile presso: http://www.architetti.san.beniculturali.it/web/architetti/progetti/scheda-progetti?p_p_id=56_INSTANCE_hIz4&articleId=14407&p_p_lifecycle=1&p_p_state=normal&groupId=10304&viewMode=normal