Professor
Francesco Cacciatore [IUAV] + [A+M]2
Assistant
Giorgia Cesaro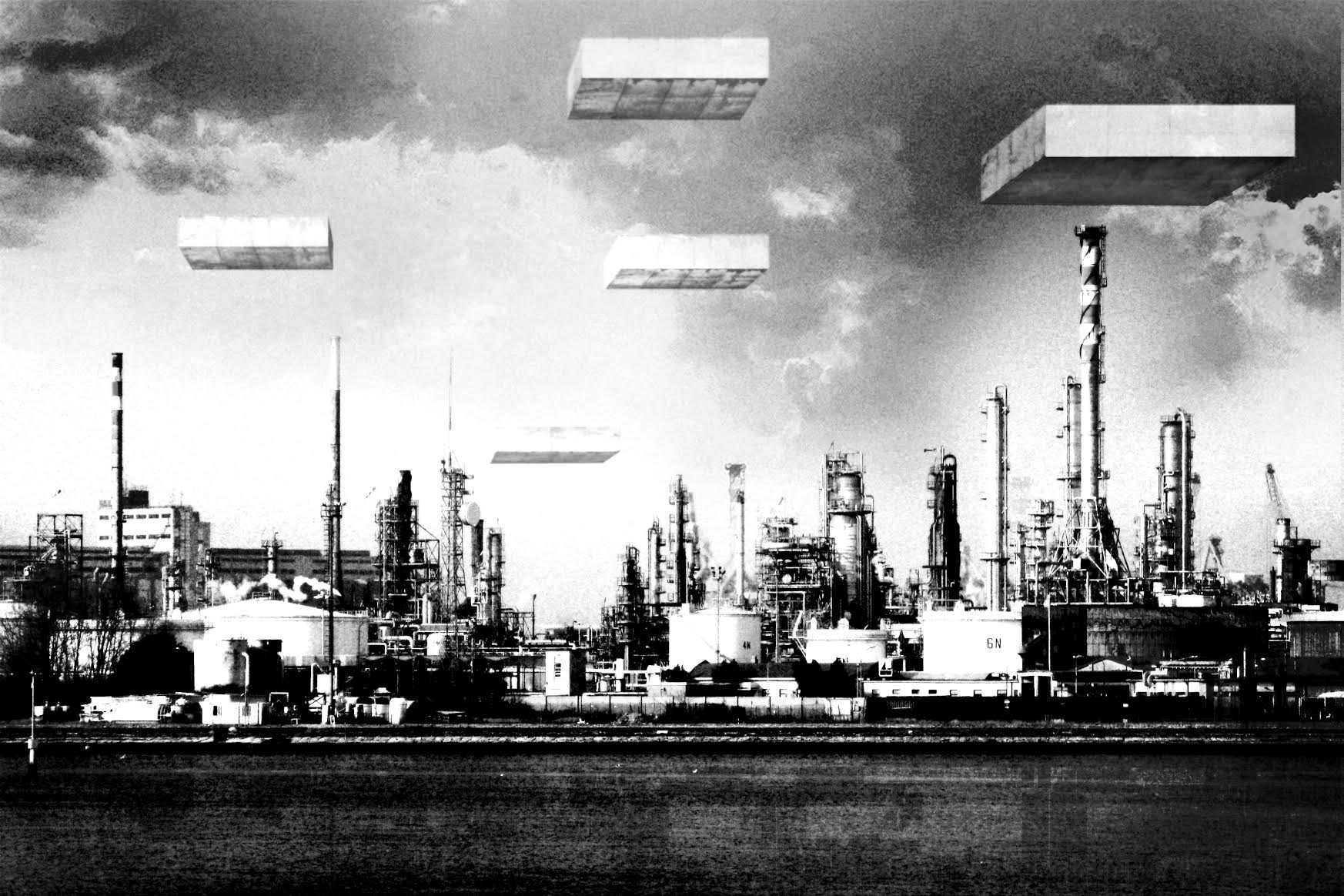 Porto Marghera 2099
From the latent space to the invention of ruins
The scenario. The vast site of Porto Marghera is one of the major industrial centers in Italy. The industries there, above all the oil-refining ones, have grown significantly in the past but they are now showing the signs of the inevitable decline. In a not-too-distant future, the productive activity will have to be dismantled because of the system's unsustainability, both economically and environmentally speaking. What is the destiny of the Porto Marghera's two thousands hectares, after the complete decommissioning of the site? Various possible scenarios can be imagined, but the soil remediation has to come first. We think that, among other ideas, the complete site's rewilding is the only successful process for the environmental rehabilitation.
The theme. The idea of Porto Marghera transformed in a hundred years into a rich garden, located just next to the old city center of Venice, is certainly a fascinating hypothesis. What might be the evidences of the past, according to this scenario, once the decommissioning of the site is complete? Referring to the idea of industrial archaeology, how can we preserve the image and the memory of the existent buildings that are not able to turn into timeless 'ruins', because of their materiality and nature? W.a.VE gives a chance to reflect on this topic.
Walking through the industrial site today, you can't recognize proper human spaces, but low fences, closed shapes, warehouses, containers loaded with materials, piles of old machineries, random displaced objects from other places. Even if the 'human-scale' space is difficult to identify, it is hidden in the folds, in the interstices and in the borders of this intensely layered landscape. We only need to bring them to light, preserving them as a memory of what was there before: the purpose is to generate timeless ruins.
The method. With this aim in mind, a new 'abstract' volume, a block made of a 'slow' material – the concrete – is brought into the picture. Those two basic characteristics are completely different from the qualities of the industrial site, which is made of articulated machineries and, in general, of perishable metal.
The new volumes fixed in size, 100x100x20 m, react to the tensions resulted from the combination of the new geometry and the existing pattern. Those fragments – through subtraction or solidification – would reveal those hidden spaces, mentioned before.
Thanks to this new type of ruin, which stands as a memory of the old industrial site, the new Porto Marghera can face the surrounding landscape at the same level: the historic city, the lagoon, the garden.
---
Dallo spazio latente all'invenzione delle rovine
Lo scenario. L'immensa area di Porto Marghera accoglie oggi una vasta serie di attività produttive. Per la gran parte si tratta di tecnologie, prima fra tutte quella legata al ciclo di raffinazione del petrolio, che hanno conosciuto in passato un grande sviluppo ma che, oggi, cominciano a manifestare i segni di un inevitabile declino. In un futuro neanche troppo lontano, queste aree dovranno essere dismesse poiché non più sostenibili, tanto dal punto di vista economico quanto dal punto di vista ambientale.
Che cosa ne sarà dei duemila ettari di superficie sulla quale oggi sorge il polo industriale di Marghera, una volta completato il processo di dismissione dell'area? Gli scenari che si possono immaginare sono tanti ma, tutti, hanno a che fare con la realizzazione di un'efficace bonifica delle falde e dei suoli, oggi pesantemente compromessi. Fra tutti, crediamo, solo un processo che preveda la completa rinaturalizzazione dei luoghi può dare una totale garanzia sulla riuscita di questo delicato risanamento ambientale.
Il tema. Immaginare quest'area fra cento anni come un grande parco naturale a disposizione della cintura metropolitana di Venezia, rappresenta senza dubbio un'ipotesi affascinante. Ma quali potranno essere, all'interno di un tale scenario, le tracce del precedente passato produttivo una volta cessata tale funzione? Come si possono conservare l'immagine e la memoria di un'archeologia industriale che non è in grado, per sua natura e costituzione, di produrre "rovine" resistenti all'azione del tempo?
Il seminario propone una riflessione in questa direzione.
Nell'attraversare oggi le grandi superfici dell'area industriale, non si riconoscono spazi, ma solo bassi recinti, forme chiuse, depositi di materiali, contenitori di sostanze, macchine accatastate, oggetti dislocati quasi casualmente tra una porzione di territorio e l'altra. Eppure gli spazi esistono, latenti e nascosti tra le pieghe, gli interstizi, i margini di questo paesaggio complesso e stratificato. Si tratta solo di portarli alla luce, di rivelarli per conservarli come memoria, un'azione che deve essere capace di "inventare" rovine in grado di durare nel tempo.
Il metodo. Per ottenere questo risultato si lavora attraverso l'introduzione di una geometria "astratta", un parallelepipedo, e di una materia "lenta", il calcestruzzo, due caratteri diametralmente opposti a quelli dell'intorno, fatto in prevalenza di articolate macchine e di deperibile metallo.
I nuovi volumi di misure date, 100x100x20 metri, sfruttano le tensioni che s'innescano nel confronto tra la nuova geometria e il tessuto attuale. Questi frammenti avranno il compito di rivelare, per sottrazione e per solidificazione, gli spazi nascosti, latenti e potenziali, già esistenti.
Attraverso l'invenzione di questa forma di rovina, memoria del vecchio mondo industriale, la nuova Porto Marghera potrà finalmente confrontarsi alla pari con il paesaggio circostante: la città storica, la laguna, il parco.